Overview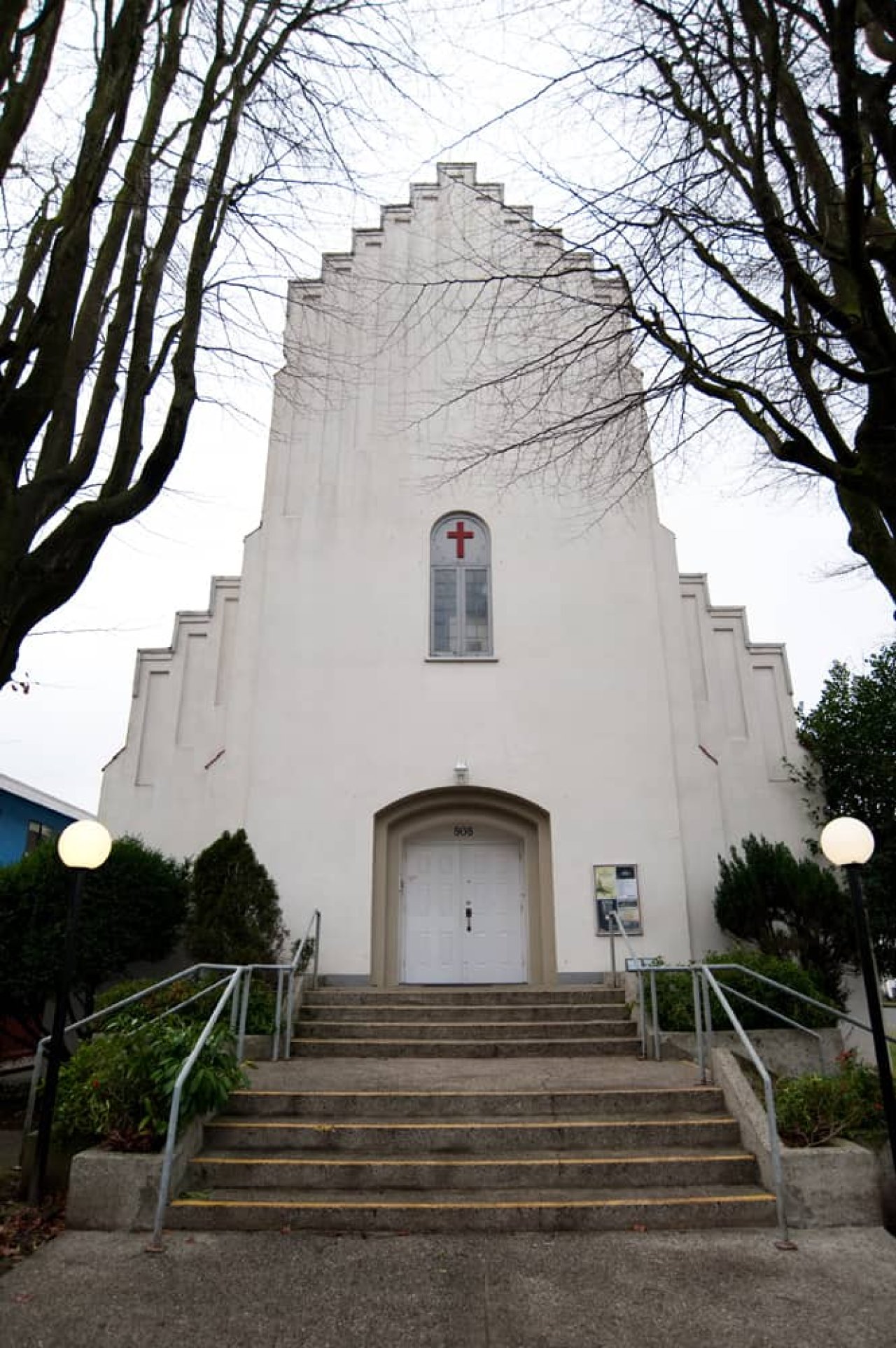 Address
808 E 19th Ave, Vancouver BC
Neighbourhood
Kensington-Cedar Cottage
Significance
A: Primary Significance
Description
With its unique stepped gables, white walls and red tile roof, the Danish Church in Vancouver, built in 1937 sits at the corner of 19th Avenue and Prince Albert Street (then Burns Street). In the 1920's, both the Danish Evangelical Lutheran Church in America and the United Danish Evangelical Lutheran Church in America considered a mission among the Danes in Vancouver. In May of 1923, Pastor Rasmussen from Dalum, Alberta, led a service in Danish at the Norwegian Church in Vancouver. This first service developed into a monthly event lead by Pastor Alfred Sørensen from Seattle, Washington. In the summer of 1923, a group of 21 people formed the Ansgar Congregation.
Pastor Sørensen and Professor Carl Brink Christensen (who had lived at Cape Scott on Vancouver Island) were instrumental in the purchase of the lot at 19th Avenue and with the raising of money from all the Danes in BC and canvassing support from those in Denmark, they were able to break ground in 1936. All the work was done by hand and with the many unemployed in the city, those who helped were given one dollar a day, and by August 15th, 1937, the church was consecrated.
In 1984, the Danish Lutherans built a similar but larger church in Central Burnaby (close to Dania seniors' residences where many Danes live.) They sold the 19th Avenue building to the Anglicans to accommodate their growing Church of the Good Shepherd congregation. Good Shepherd met there until 2004, when continued growth led to a unique and complex property swap that led the Chinese Anglicans to the Metropolitan Tabernacle at 11th Avenue and Columbia Street in Mount Pleasant. Since 2015, Reality Church Vancouver has made the "Chapel" its home, part of the C2C network of assertive national church planting program – interdenominational but affiliated with the Mennonite Brethren denomination.
Source
Danish Church of Vancouver website, Vancouver Courier Oct 7, 2015 article online, Church for Vancouver website
More information
Contact
Please Share Your Stories!
Send us your stories, comments or corrections about this site.