Overview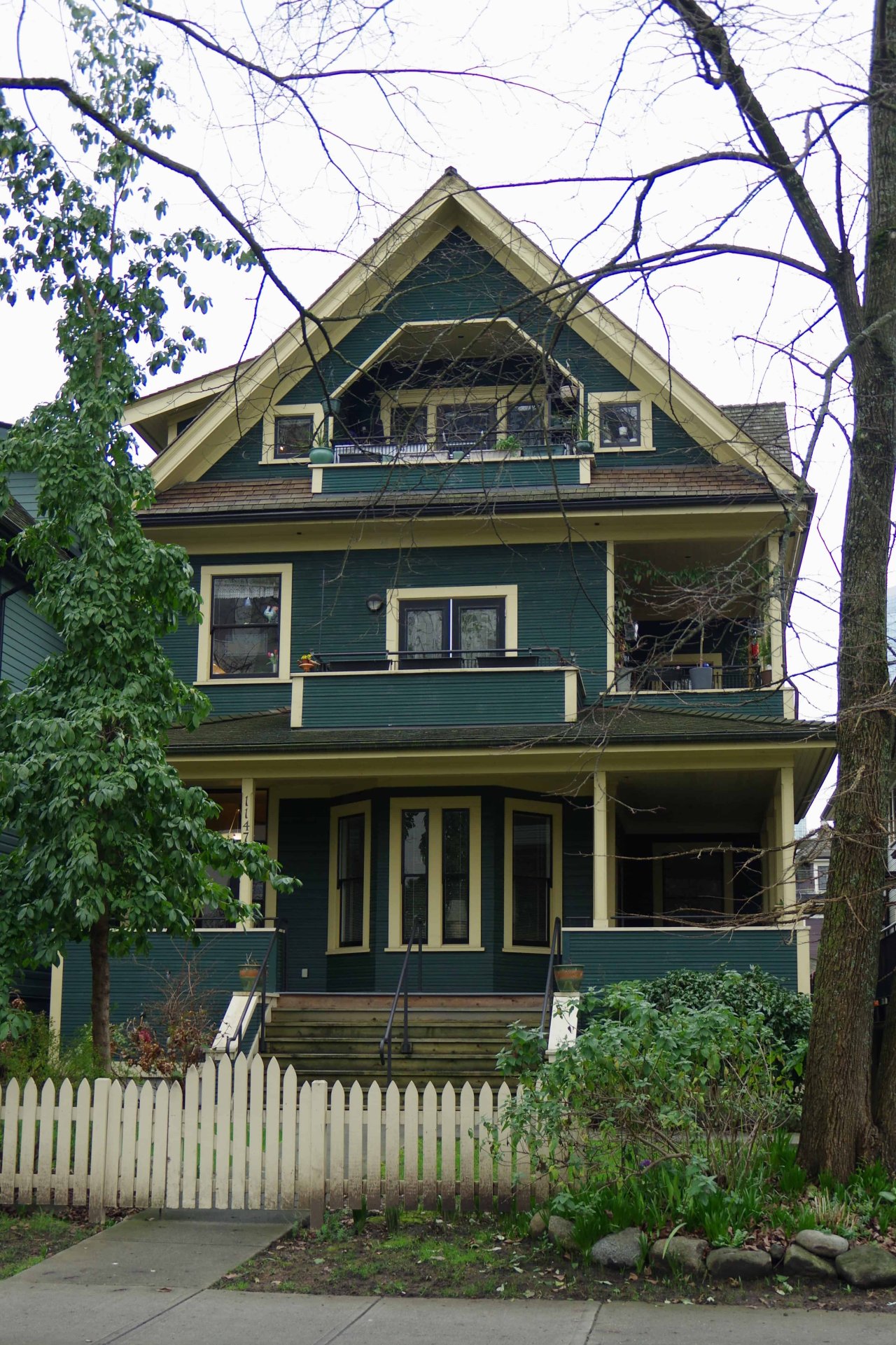 Address
1147 Pendrell St, Vancouver BC
Significance
B: Significant
Description
This house was built in late 1889 and has undergone many changes over the years, beginning in 1913. The front of the building, which probably had a similar architectural character to the adjacent homes, was refurbished at some point during the 1940's to accommodate Vancouver's growing post-war population. Changes included the apartment style entrances to the front and an addition of the east side of the house. The addition demolished in 2002 as part the building's restoration. The rear of the house, which is best seen from the laneway, remains relatively unchanged and offers a glimpse into the structures' history. The house is one of very few that sits on a full lot, rather than the more common half lot, within Mole Hill.
The house was originally built as the residence of the Baron de St. Laurent, who was the French consul in Vancouver. The first resident of the house is registered as Henry de la Vallee Poussin. Little is known about Poussin and there is scarce evidence to support whether he was in fact the French Consul at that time. It is unknown if, or for how long, he lived 1147 Pendrell St. Curiously, he is also listed as the owner of the residence to the east, now 1139 Pendrell St and it is assumed he remained in the area for a short period. In 1901, Colin Chisolm and Sarah Ralston, who carries the namesake of the house, with their four sons, James, Colin, Alex and John were registered as the residents of the home. Both Colin and Sarah were born in Ontario. Colin was a customs officer and died in 1905 leaving the house of this widow and children. Ralston and her children remained here until 1914, when an O.R. Lightheart took possession of the house.
The house is a 2 ½ storey Victorian style and minimal detailing which is more commonly associated with Edwardian builder homes. Of note is the front-gabled roof, full width porch around the east side, prominent day window, decorative square lead glass windows, corner boards and lap siding. Structurally, the house has a concrete foundation and wood framing.
This house is painted in VHF True Colours: Body – Harris Green, Trim and Watertable – Edwardian Cream, Sash – Gloss Black, Porch – Edwardian Porch Grey
Source
Blair Petrie, "Mole Hill Living"; Michael Kluckner & John Atkin, "Heritage Walks Around Vancouver"
Contact
Please Share Your Stories!
Send us your stories, comments or corrections about this site.