Overview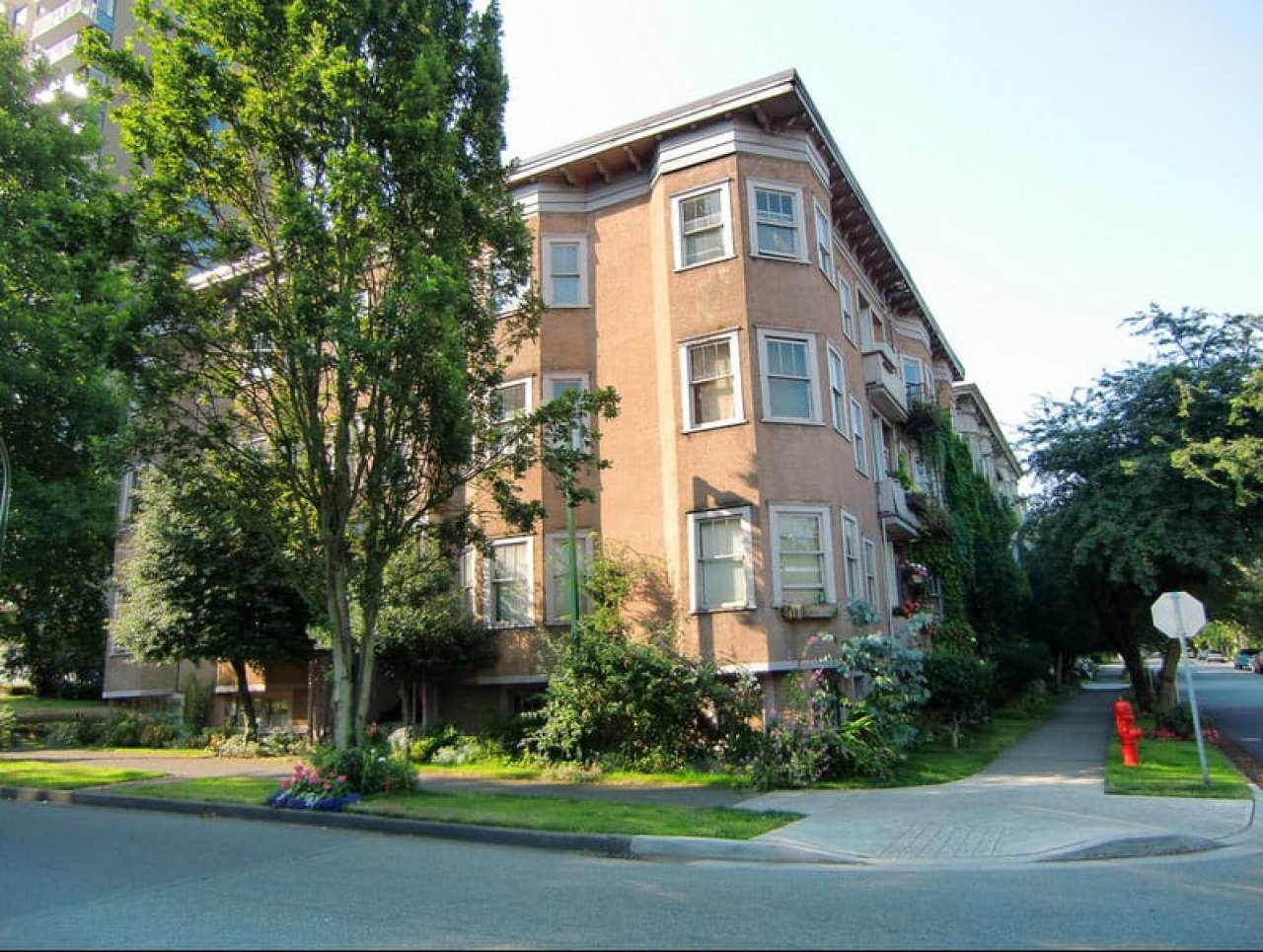 Address
1460 Nelson St, Vancouver BC
Significance
C: Contextual or Character
Description
Thomas J. and Oliver R. Lightheart designed and built The Clifton Apartments at 1460 Nelson St according to a permit issued in 1909. They are among the six Lightheart Brothers who conducted significant development and construction activities in Vancouver in the 1910s and 1920s, including William A., Joseph R., Thomas J., Jacob V., George E., and Oliver R. Originally from Ontario, the brothers moved to Vancouver, along with their youngest sister Emma. In 1911, all of them but William were living at 2941 Burns St. on what is now called Prince Albert Street, in house designed and built by George a year earlier.
The Builders
Thomas was a middle brother in the Lightheart family. He was born in Ontario in 1879, and died in Vancouver in 1912 when he was 33 years old. In 1909, Thomas had on his record four frame houses at 1642-62 Robson Street, in addition to another one at 1141 Comox St. The same year, he supervised alteration work for W. G. McLean at 1143 Comox St. In 1910, he completed his main solo project, the three-storey-apartment building at 1020 Nicola St. Additionally, he cooperated with his brother Jacob on constructing 1086 Bute St., know today as Strathmore Lodge.
Oliver was born in Ontario in 1889 and married Margaret Louis Macgregor in Vancouver in 1918. Margaret was born in 1891 and was from Prince Edward Island. According to the 1921 Census of Canada, Oliver was at age 32 living at 926 West 12th Ave. with Margaret, their infant son, Lloyd, and their 18-year-old maid Lousie Bestwick. Oliver had three children in total including Oliver Lloyd, Donald Mar Gregor, and Norma Louise.
Apart from Clifton Apartments, Oliver had built mostly single houses. In 1913, he designed and built 936 Bute St. and 1146 Pendrell St. Additionally, in 1926, he built 5416 Cypress St. and 5388 Cypress St. for a "Lightheart, Mrs. M.," who was probably Oliver's wife, Margaret. They later moved into the home at 5388 Cypress St. in 1926.
The Clifton Apartments at 1460 Nelson St. seems to have been Oliver's first development in Vancouver. Both Thomas and Oliver were living at 1111 Richards St. when collaborating on the project, and were respectively about 30 and 21 years old. They were both listed in city directories as carpenters, and the building was realized as a three-storey apartment house with a value of $15,000. The building's 12 units were rarely vacant in the first years of occupancy and Oliver himself lived in apartment #2 in 1920.
In 1911, Thomas and Oliver planned to build a seven-storey building, containing 85 suites at the southeast corner of Bute & Nelson Streets. It was advertised in local newspapers for its "modern" features, such as a hot water heating system and a garbage burner. But this project was not realized at that time, owing to the death of Thomas  in 1912. Instead, in 1923-1924, Oliver built a three-storey building on the same lot, known as the Berkeley Apartments.
The Building
The Clifton Apartments had had many residents and over its 100 years of existence saw many stories. On December 18, 1967 the Vancouver Sun reported on an incident at the Clifton where Valiant, a Vancouver police dog, played an instrumental role in catching a wanted man. Joseph McKenna escaped prison while serving a life sentence for murder, but surrendered after the dog was sent to his hideout. Valiant was heavily wounded and later died in the veterinary hospital. This incident was well covered in the press at that time.
The Clifton was designed with late 19th century classical revival styles in mind. It has a plan with a symmetrical layout on the main axis, and it uses simplified classical details. The massing roughly fits into a square footprint, as it doesn't have a compact shape. Rather, façades have repeating projections, including balconies on the side ones. The flat roof is outlined by a wide board frieze, which slightly extends beyond the edges of the building and is decorated with modillions. Little change has been done to the shape and features of the building over the years. Three-sided bay windows project outward from the walls of the building, at each corner and on the main body. The windows are double-hung and equal in size, with a gridded upper sash. The lintels and sills contrast in color with the main paint. The entrance is centrally positioned, highlighting the symmetrical design. It has a double-door framed by two Tuscan columns on a raised plinth. The door's transom has decorative glass, which exhibits the name of the building in a golden color.
References
Atkin, John, Birmingham & Wood, Denise Cook Design, Kamala Todd and Elana Zysblat. West End Historic Context Statement.
Building Vancouver. The Lightfoot Brothers. https://buildingvancouver.wordpress.com/2011/12/15/the-lightheart-brothers/
Source
British Columbia City Directories 1860-1955, VanMap, Heritage Vancouver Building Permits Database, City of Vancouver Archives, Vancouver Sun
Contact
Please Share Your Stories!
Send us your stories, comments or corrections about this site.