Overview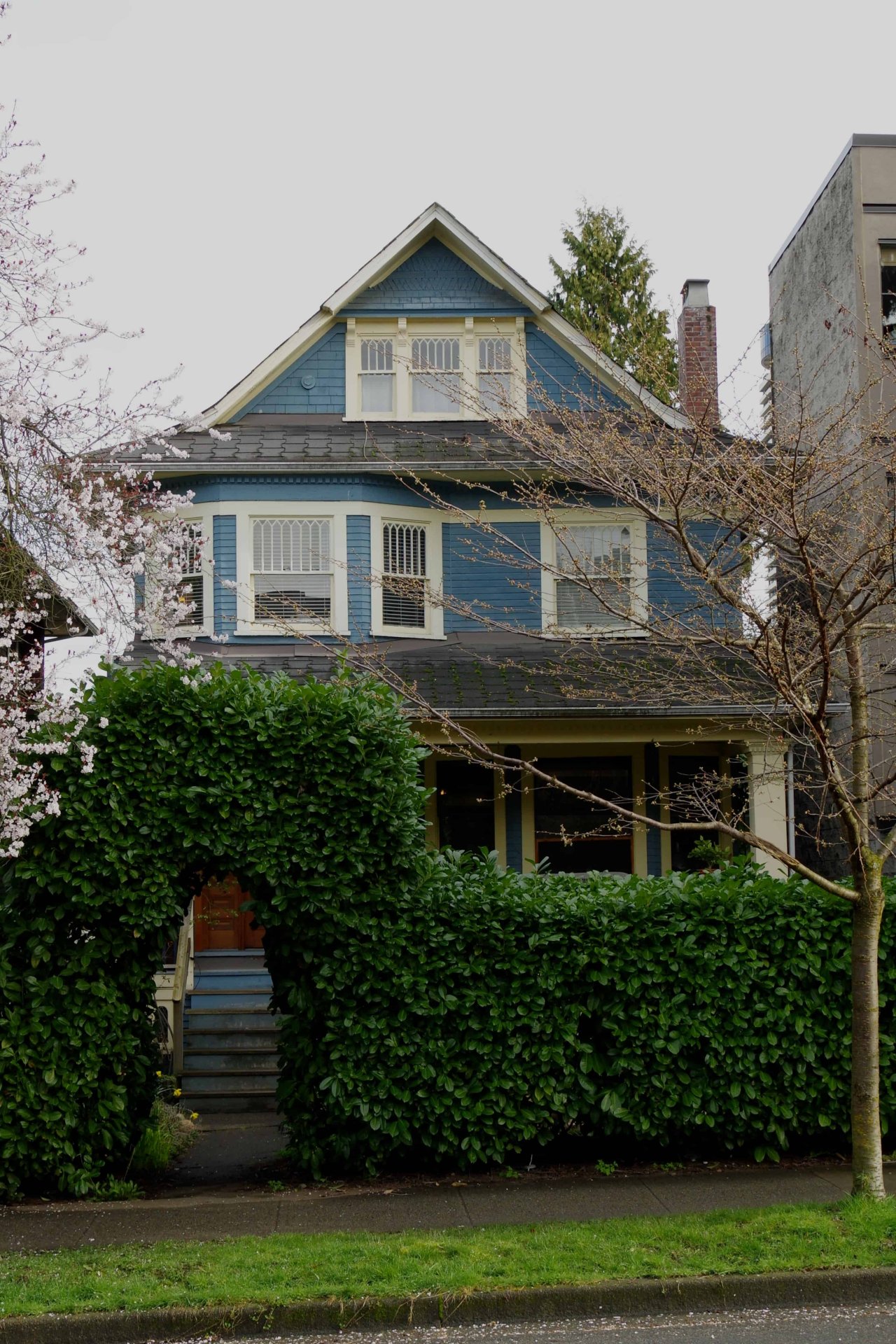 Address
1517 Comox St, Vancouver BC
Significance
B: Significant
Description
1517 Comox St., constructed in 1905, is a Gabled Vernacular-style house. It features a full front porch, a steep gabled roof, and a large bay window on the front facade. The house is located between Comox Street and Henshaw Lane. Julia Henshaw, to whom the lane is dedicated, was a prolific author and botanist who resided in Vancouver's West End for part of her life. She was a well-known woman in society and a founding member of several groups such as the Vancouver Musical Club and the Canadian Alpine Club. In addition to her many accomplishments, Henshaw also served in World War I and received several accolades for her service as a Red Cross ambulance driver.
In 1921, George H. Stuart is shown to have lived at 1517 Comox St. with his wife Orina, both Presbyterian Christians. While his parents hailed from Nova Scotia, George was born in B.C. Orina, a citizen of the United States, immigrated to Canada in 1919. George was employed at Lumber Co. as a labourer. Permits from August 1923, show that Orina filed for a new garage on the property. Other residents of the home include William G. Jones, a boarding master at the Canadian Pacific Railway, his wife Sophia, and later John G. Stubbort, a labour man, who resided with his wife Helen. As of writing in 2021, there is an active development permit for interior and exterior alterations to the building as well as the addition of a three-storey laneway house.
The West End originally served as a neighbourhood for the upper class. From the 1890s onwards, many new homes, predominantly Victorian-style in early years, were erected. The neighbourhood began to redevelop again around two decades later with the construction of apartment buildings along the original streetcar lines. Due to building codes at the time, these apartments were only six stories high, a large height differential to the condominiums that surround these structures today. Today, the West End thrives as a densely populated residential area. It also encompasses Davie Street Village, which became a hub for the LGBTQ+ community in Vancouver beginning in the 1970s and is steps away from retail shops and Stanley Park.
Source
British Columbia City Directories 1860-1955, VanMap, Heritage Vancouver Building Permits Database, VHF's House Style Webtool, Elizabeth Walker: Street Names of Vancouver, Biographical Dictionary of Architects in Canada 1800-1950
Contact
Please Share Your Stories!
Send us your stories, comments or corrections about this site.