Overview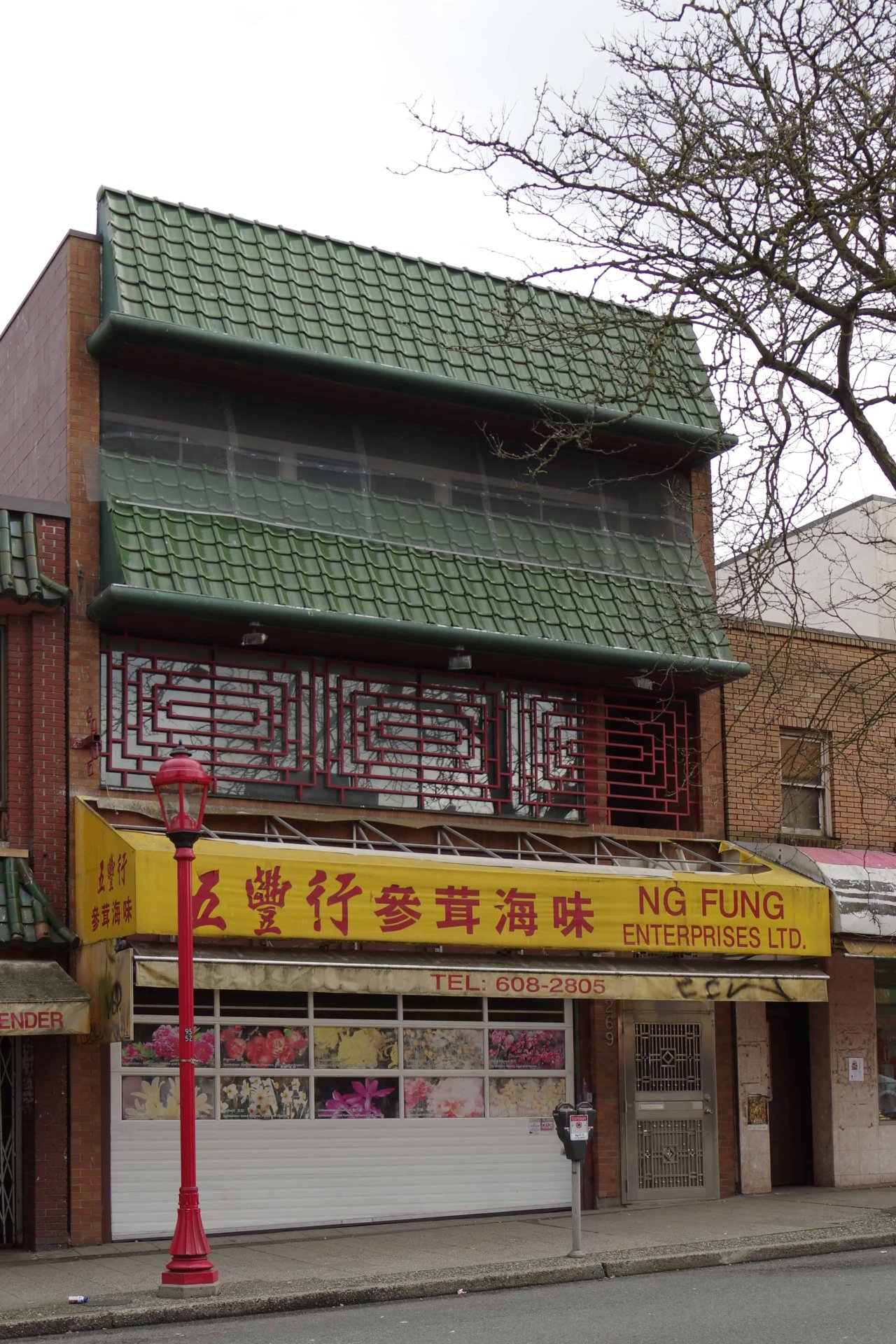 Address
271 E Pender St, Vancouver BC
Description
This three-storey building was constructed in 1978 and is designed by Urban Design Group Architects. It was designed to imitate the style of traditional Chinese architecture, featuring a Chinese-style shingled roof and fencing. It has a brick exterior. The two upper levels feature recessed balconies, which reference other buildings in the area.
Unit 269, the ground floor, served as a branch of the Royal Bank of Canada (RBC) from 1980 until the 90s. Unit 271, the upper floor, was first occupied by Sing Tao Newpapers Ltd in 1985. The Royal Bank expanded to also occupy unit 271 in the 90s. Today, the building is a warehouse for a local Chinese clothing establishments called Kuai Ming Enterprises Ltd, but it still has the Ng Fung Enterprises signage. The upper floors are a single-family residential home.
This building is not the original building constructed on its lot. The original was constructed in the 1910s and was designed by Chinese Canadian architect W.H. Chow. The first owner, Quong Kee, ran a flour and feed business.
This site is part of the Chinatown Historic Area, HA-1 in the City of Vancouver's zoning bylaw. It is included in the Vancouver Heritage Register as a recognized part of the historic neighbourhood. Other similar municipally protected sites within a Historic Area are marked on the map with an O instead of the usual Heritage Register categories of A, B, or C. Some of these sites may be newer construction but are nonetheless still protected. For more information on the bylaw that governs the Chinatown Historic Area see: https://bylaws.vancouver.ca/zoning/zoning-by-law-district-schedule-ha-1-1a.pdf
Source
Changing Vancouver Blog
Contact
Please Share Your Stories!
Send us your stories, comments or corrections about this site.