Overview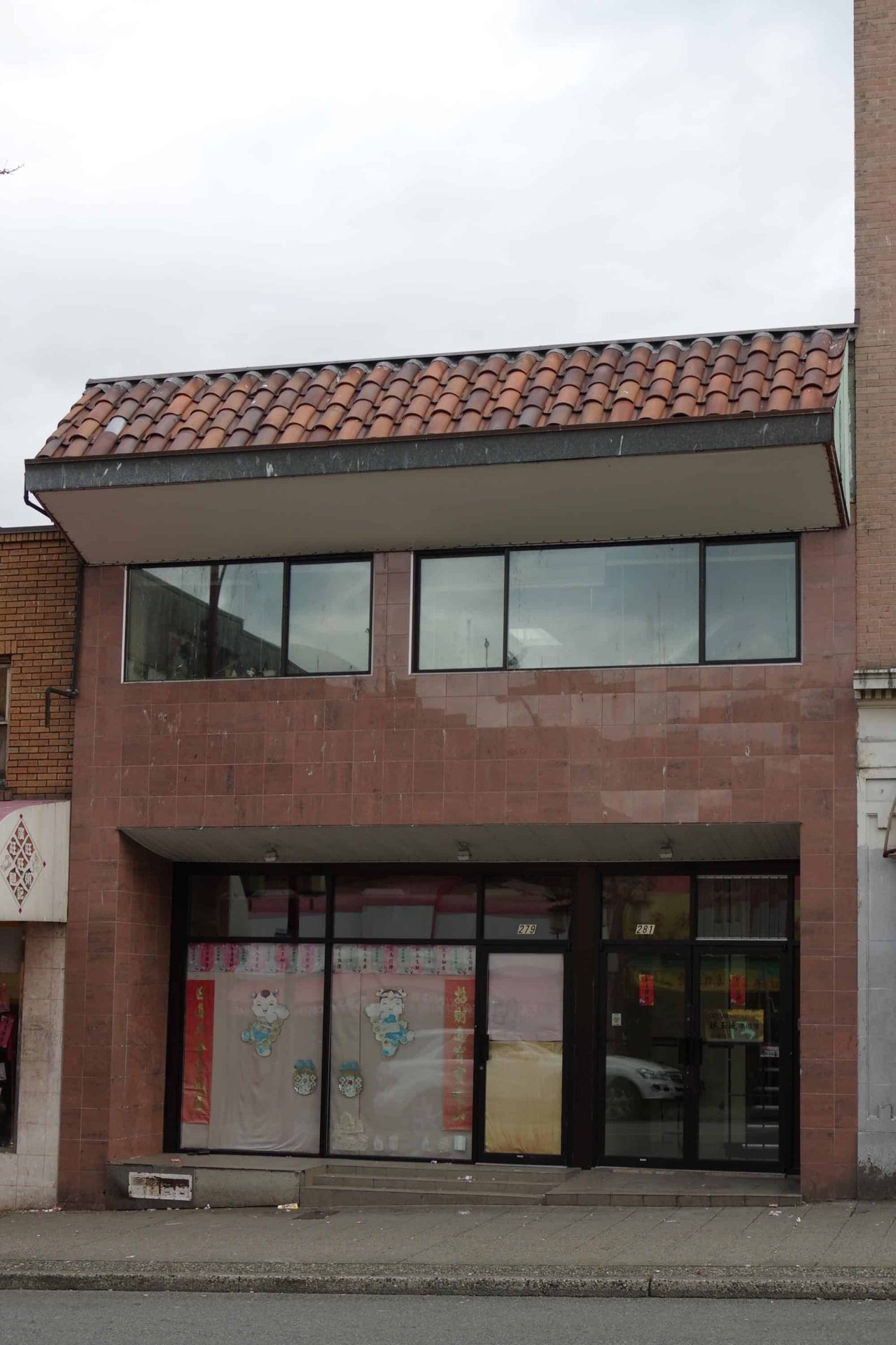 Address
281 E Pender St, Vancouver BC
Description
This 2-storey building was constructed in 1928 and renovated in 1971. It has a Chinese-style shingle roof and a tiled exterior. The unit on the left, 279, was a grocery store called Le Fong Co Groceries from its construction until the early 1940s. It became Kwong Hong Yick Groceries around 1945, Sing Lee Co Fish in the 1950s, Jimmy's Fine Food Fish in the 1960s, and Asia Construction General Contractors in the 1970s.
In 1980, three separate businesses shared the space. They were Fan Harry E S & Co Barristers, Asia Construction General Contractors, and Dragon Holdings Ltd. In the mid-1980s, a grocery store known as Super Fresh Food Co. occupied this space. The unit on the right, 281, was likely created when the building underwent renovations in 1971. It was a restaurant called Lung Kee restaurant from its creation until the mid-1980s. The space was vacant in 1985 and in 1990, it was shared by Super Fresh Foods Ltd. (which also occupied unit 279) and Bonus Holiday Tours and Travel. Currently, it is occupied by Lam Yoke who offers general practice legal services.
This site is part of the Chinatown Historic Area, HA-1 in the City of Vancouver's zoning bylaw. It is included in the Vancouver Heritage Register as a recognized part of the historic neighbourhood. Other similar municipally protected sites within a Historic Area are marked on the map with an O instead of the usual Heritage Register categories of A, B, or C. Some of these sites may be newer construction but are nonetheless still protected. For more information on the bylaw that governs the Chinatown Historic Area see: https://bylaws.vancouver.ca/zoning/zoning-by-law-district-schedule-ha-1-1a.pdf
Contact
Please Share Your Stories!
Send us your stories, comments or corrections about this site.