Overview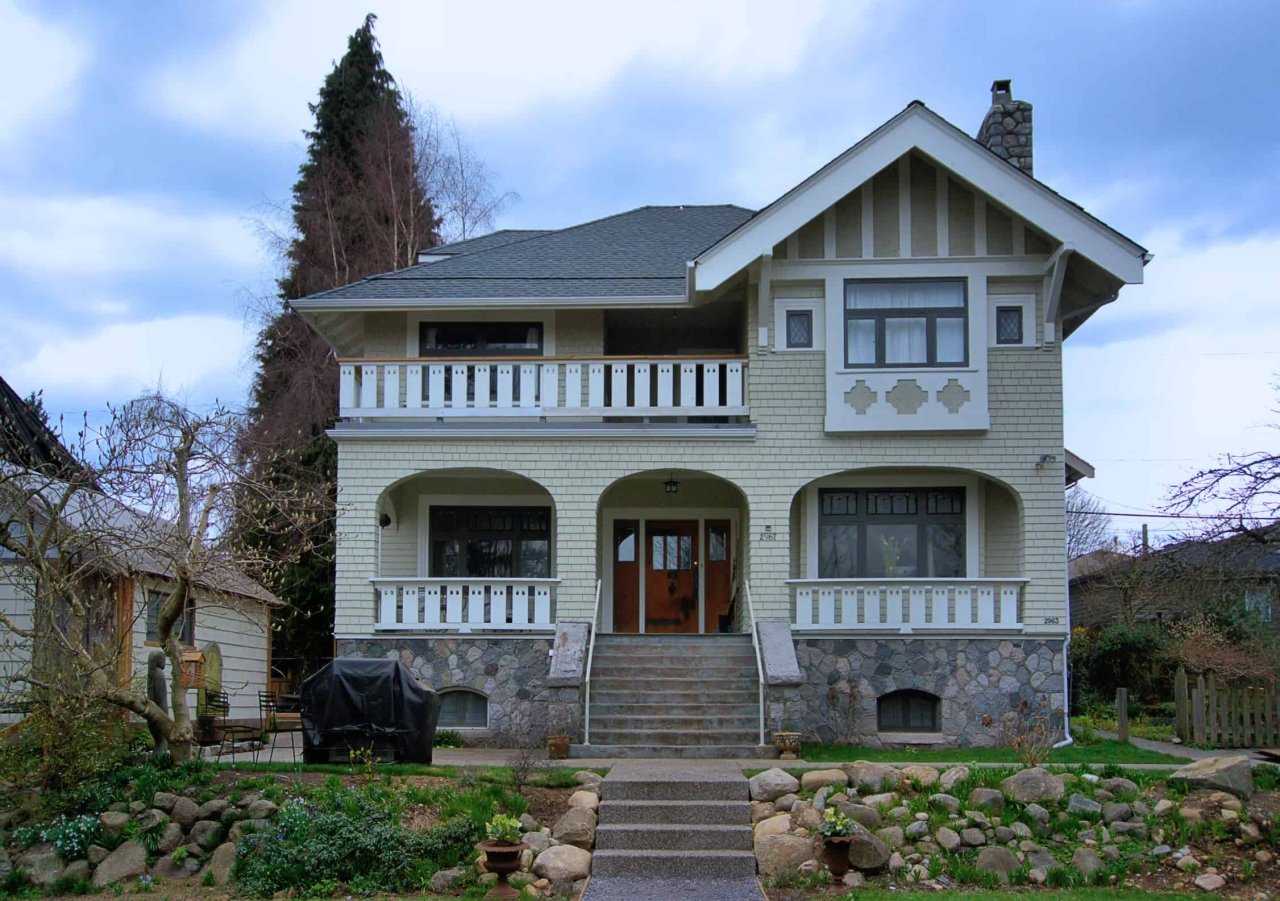 Address
2967 W 42nd Ave, Vancouver BC
grants
Heritage Conservation Grant 2021
Significance
B: Significant
Description
This two-and-a-half-storey Craftsman home was built prior to 1912 as it appears on historical city maps from this time. It is supported by a solid granite foundation and piers, with a front porch framed by curved archways.
Prior to 1950, this was the home of at least six different families. Early residents Ernest and Annie Munton lived at the home from at least 1917 to 1927. Ernest was a credit manager at WH Malkin. Following them, the Shiells family lived here from 1928 to 1929. Permits indicate that they added a garage or room to the property in 1928.
Into the 1930s and 1940s the pattern of rapid turnover continued. In 1932 this was briefly the residence of Harry Elder Bullen, a commercial and portrait photographer known for his photographs of passengers on BC Electric open-air observation cars. From 1933 to 1937, this was home to Major Richard George Hardisty and his second wife Esther. Major Hardisty was the son of Senator Richard Charles Hardisty, a Hudson's Bay Company official and a politician. Richard Charles Hardisty was elected to the Senate in 1888, the first person of Indigenous descent to serve in the Canadian government. The village of Hardisty, Alberta and Mount Hardisty were named in his honour.
Starting in 1938, Richard and Mary Langdon lived here with their two children. Richard was President of the Western Sports Centre which was a men's social club and gymnasium at 111 Dunsmuir Street. In the mid-1940s, this was the home of George and Winifred Garside. George worked as a product (or production) inspector at Peacock Brothers, which manufactured industrial and construction equipment.
About the Area
West 42nd Avenue, from Balaclava to MacKenzie Streets, was originally known as Manor Road. This short road led to the MacKinnon family home. In 1905, Mrs. MacKinnon was asked to name the Canadian Pacific Railway station at Wilson Road (now 41st Avenue). She named it Kerrisdale after her family home named Kerrydale, in Scotland. Just to the west was the 1902-built Edgemont estate, now the Crofton House School "Old Residence." Much of the surrounding area was then farmland as Kerrisdale didn't see a large influx of development until the 1920s and 1930s.
Kerrisdale has seen shifting patterns of settlement and immigration. The area is the traditional territory of the Musqueam, Squamish and Tsleil-Waututh First Nations who have inhabited the Fraser River estuary and adjacent lands for thousands of years. The Irish McCleery family were the first European settlers arriving in 1867. Their homestead and farm are now the site of McCleery Golf Course. Kerrisdale was a major hub for railway and streetcar routes which prompted more development and establishment of the Kerrisdale Village shopping area. The last 30 years have seen the arrival of immigrants from Hong Kong and China and the 2016 Statistics Canada Census indicated that over 35 per cent of Kerrisdale residents speak Mandarin or Cantonese as their first language.
Source
Heritage Vancouver Building Permits Database, VPL British Columbia City Directories 1860-1955, City of Vancouver, VanMap, Memory BC, Find a Grave "Richard George Hardisty", Dictionary of Canadian Biography, West End Vancouver Blog, Street Names of Vancouver by Elizabeth Walker, Vancouver Heritage Foundation 2019 Annual Tour Guide
Contact
Please Share Your Stories!
Send us your stories, comments or corrections about this site.