Overview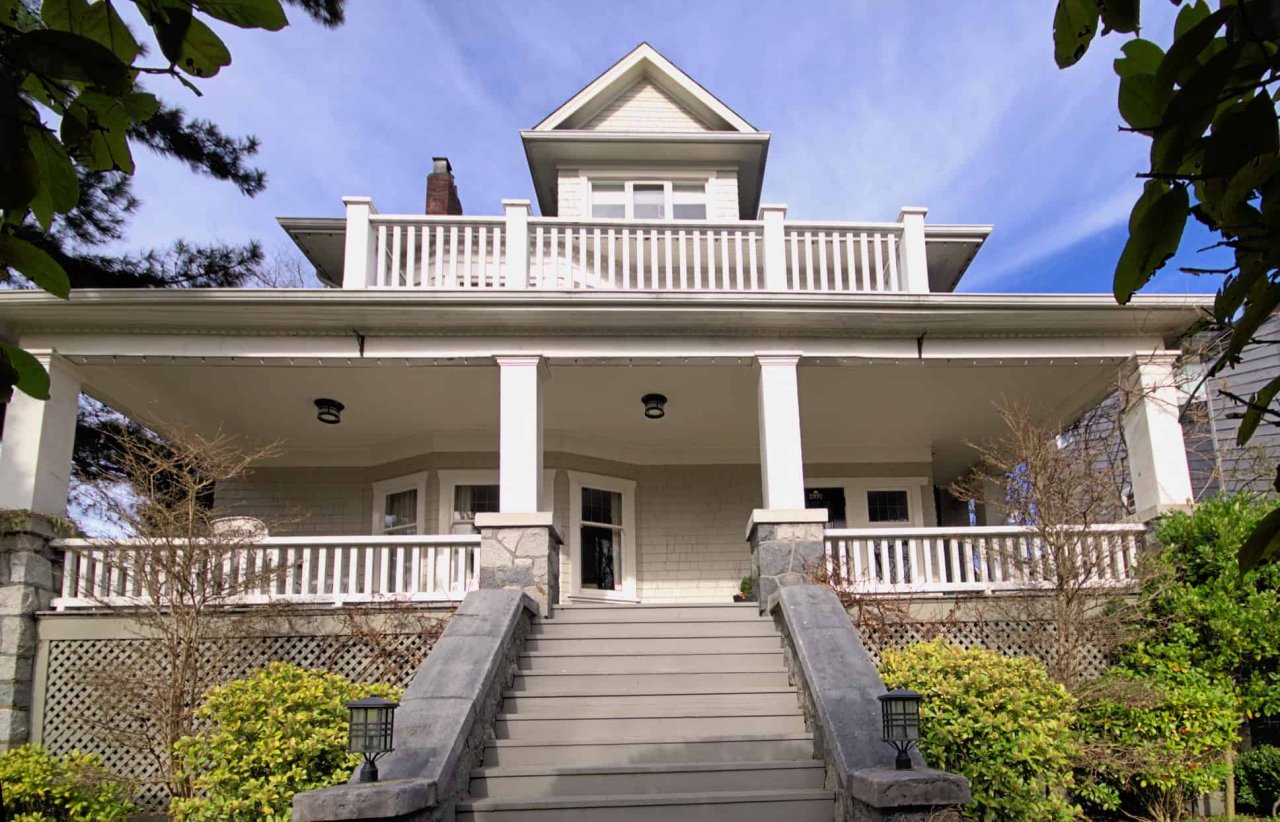 Address
2991 W 42nd Ave, Vancouver BC
Significance
B: Significant
Description
2991 West 42nd Ave. was likely built circa 1912 as it appears on historical city maps along with its nearby neighbour, 2967 West 42nd Ave. It was originally owned by George White, who only resided here for a few years.
From 1925 until at least 1955, this was home to Bromwell and Dorothy Grant. Bromwell was a director at Macaulay, Nicolls and Maitland commercial real estate company, now Colliers International.
About the Area
West 42nd Avenue, from Balaclava to MacKenzie Streets, was originally known as Manor Road. This short road led to the MacKinnon family home. In 1905, Mrs. MacKinnon was asked to name the Canadian Pacific Railway station at Wilson Road (now 41st Avenue). She named it Kerrisdale after her family home named Kerrydale, in Scotland. Just to the west was the 1902-built Edgemont estate, now the Crofton House School "Old Residence". Much of the surrounding area was then farmland as Kerrisdale didn't see a large influx of development until the 1920s and 1930s.
Kerrisdale has seen shifting patterns of settlement and immigration. The area is the traditional territory of the Musqueam, Squamish and Tsleil-Waututh First Nations who have inhabited the Fraser River estuary and adjacent lands for thousands of years. The Irish McCleery family were the first European settlers arriving in 1867. Their homestead and farm are now the site of McCleery Golf Course. Kerrisdale was a major hub for railway and streetcar routes which prompted more development and establishment of the Kerrisdale Village shopping area. The last 30 years have seen the arrival of immigrants from Hong Kong and China and the 2016 Statistics Canada Census indicated that over 35 per cent of Kerrisdale residents speak Mandarin or Cantonese as their first language.
Source
Heritage Vancouver Building Permits Database, VPL British Columbia City Directories 1860-1955, City of Vancouver, VanMap, Changing Vancouver Blog, Street Names of Vancouver by Elizabeth Walker, Vancouver Heritage Foundation 2019 Annual Tour Guide
Contact
Please Share Your Stories!
Send us your stories, comments or corrections about this site.