Overview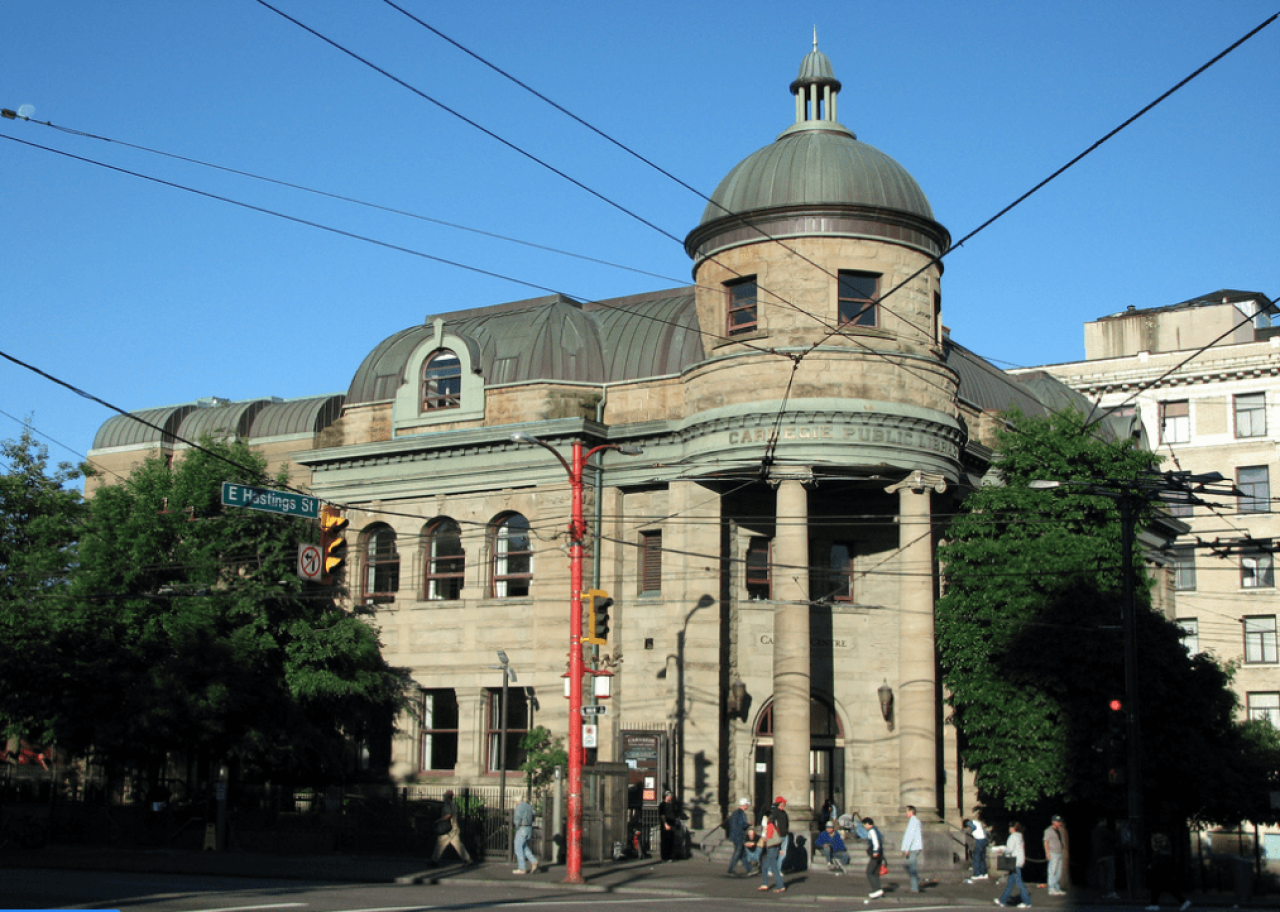 Address
401 Main St, Vancouver BC
Significance
A: Primary Significance
Description
This was Vancouver's main library from its official opening in 1903 until 1957, when a new library was built on Burrard St. The building also operated as the Vancouver Museum.
The building was one of the many Carnegie Free Libraries built with money donated by philanthropist Andrew Carnegie. The Carnegie Centre continues this social justice tradition and operates as a social and cultural centre to serve the Downtown Eastside .
Architectural highlights include:
• curved staircase within the portico
• stained-glass windows with panels commemorating William Shakespeare, John Milton, Robert Burns, Sir Walter Scott, and Sir Thomas Moore
In 1935, striking relief camp workers occupied the top floor, then the Vancouver Museum, to demand relief funds.  A massive crowd gathered in the streets outside and lifted buckets of food up to the protesters. Within eight hours, the city offered six days' worth of food vouchers which they accepted.
In the 1970s, the building sat empty until the Downtown Eastside Residents' Association (DERA) successfully lobbied the government to convert the building into a city-run community centre after the main library moved to Burrard Street (and the Vancouver Museum is the Museum of Vancouver located at Vanier Park). The Carnegie Centre has offered childcare, library services, substance abuse and addiction support, educational upgrading and nutritious meals to community residents since 1980.
Source
Canada's Historic Places, Vancouver Heritage Inventory Phase II 1986 Summary Report, Working Class and Labour History Walking Tour
Contact
Please Share Your Stories!
Send us your stories, comments or corrections about this site.