Overview
Address
1520 Atlas Lane, Vancouver BC
Significance
A: Primary Significance
Description
The 10 acre Shannon Estate is comprised of a three-storey Beaux Arts mansion, formal Italianate gardens, and two out buildings (a coach and gate house). The property was bought in 1912 as the rural residence of B.T. Rogers, owner of Rogers Sugar, whose primary residence was at Gabriola on Davie Street.
This site on Granville Street and Shannon Road (57th Avenue) offered an idyllic location with sweeping views to the south. Rogers hired American architectural firm Somervell and Putnam to design his estate and by late 1913 plans were in place for over 30,000 square feet of living space.
In 1917, the coach house, nicknamed Bohemia, was completed and occupied by the two elder Rogers daughters. B.T. Rogers died suddenly in 1918 at age 52 with the exterior of the house erected by Charles Bentall's Dominion Construction. It wasn't until 1925 that his widow sold Gabriola to Bentall and hired architect Bernard Palmer to complete Shannon. She commissioned Charles Marega to create ornamental garden elements, several of which are still on the grounds, as well as interior plasterwork. In August 1925, Mrs. Rogers and her three youngest children moved in and remained at the residence for the next 11 years.
The subsequent owner, financier Austin Taylor made few changes. In 1965, Wall Financial Corp. purchased the property, by then in a deteriorated state. Renowned local architect Arthur Erickson was retained to develop townhouses and apartments in 1973 while the original structures were maintained. The mansion and perimeter wall were designated as part of the zoning deal that allowed multi-family buildings in a single-family area. In 2016, a full heritage rehabilitation of the mansion (including interior) , auxiliary buildings and key landscape elements was completed.
The address was revised from 7255 Granville Street to 1520 Atlas Lane in 2018. Shannon Estate won a City of Vancouver 2017 Heritage Award of Honour, demonstrating an outstanding contribution to heritage conservation.
Source
VHF Heritage House Tour 2017 Brochure, Historic Places Canada 2009, City of Vancouver Report 2018
Gallery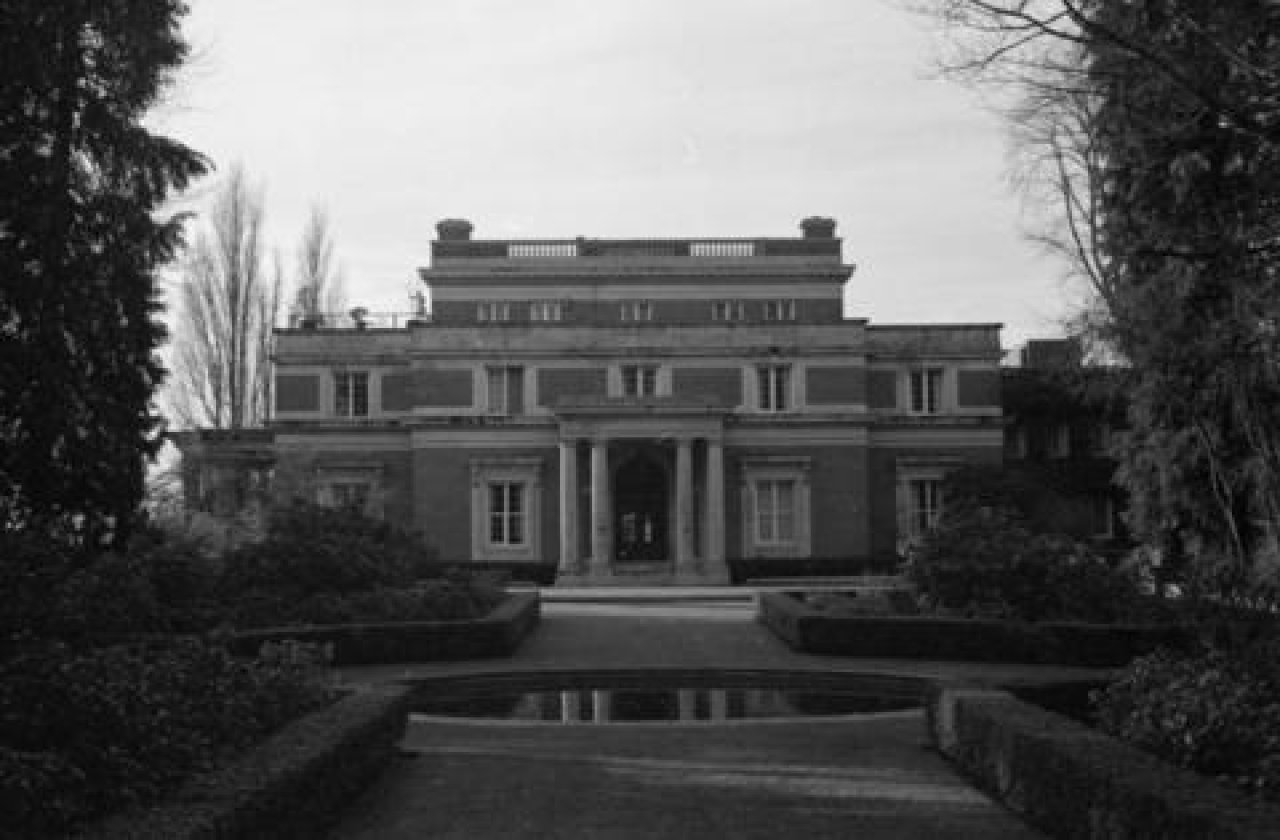 Shannon Estate Mansion c. 1986 Source: City of Vancouver Archives Item : CVA 791-1165 - 7255 Granville Street
Contact
Please Share Your Stories!
Send us your stories, comments or corrections about this site.